Let's marry art with design to find the creative spark that will make your brand pop.
I work with clients who want to push past the blandness of trends and find truly unique visual strategies that better communicate what they do.
How can we stand out? If everyone is doing squares, let's do circles. Better yet, let's do a dot-to-dot where you draw your own circle. And maybe inside the circle, let's draw a garbage can, and let's put that boring old square into it.
Design and branding are about finding the right creative strangeness that will boost your brand and your bottom line.
Logos & Branding
Visual identity that expresses who you are and works everywhere, for everything, always
Logos, collateral, style guidelines, stationery, brand books
Get a Free Quote
Graphic Design & Illustration
The first impression "wow" factor that sets you apart and says who you are
Packaging, signage, brochures, catalogues, icons, portraits, murals, merch, everything
Get a Free Quote
Web Design & Development
A user-friendly bug-free online experience for your brand, planned with your marketing goals in mind
Wireframes and UX, content strategy, custom WordPress themes, responsive websites, eCommerce
Get a Free Quote
Consulting & Art Direction
Expert advice and an enthusiastic push in the right direction
Suggesting improvements to existing designs, managing your creative team, facilitating meetings, setting up graphic strategies for other designers
Get a Free Quote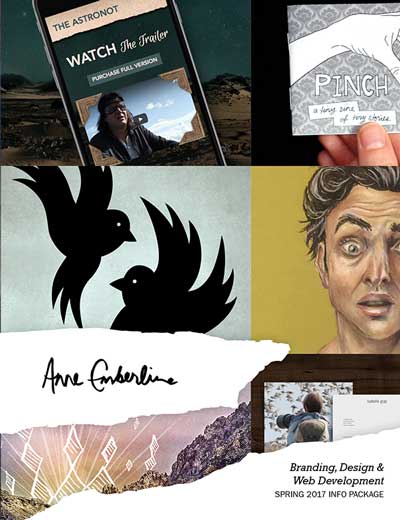 Learn more about working with me
Download my 2017 Info Package